SelfDefinition.Org
Gurdjieff Quotes
device width goes here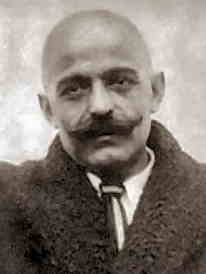 Gurdjieff's Toast To The Idiots
Summary
David Hodges contributes: Here is the most complete list possible of Gurdjieff's Order of Idiots, with thanks to Marcia Paul (see detail below).
Whoever has contact with reality is an Idiot, the word having two meanings:
A) to be oneself;
B) being so, to those in illusion, such a one behaves like an idiot.
From ordinary man to God, idiots comprise 21 gradations of reason. Among the idiots are:
The Idiots
1. ordinary
2. super
3. arch
4. hopeless
5. compassionate
6. squirming
7. square
8. round
9. zigzag
10. enlightened
11. doubting
12. swaggering
13. born
14. patented
15. psychopathic
16. polyhedral
[ continued below the note ]
In the 'Rue des Colonels Renard' collection science-of-idiotism.htm the order is: 12. Swaggering Idiot; 13. Remorseful Idiot; 14. Born Idiot; 15. Patented Idiot; 16. Idiot of Stinking Hierarchy; 17. [not named]
Higher classes
Idiots 17-21 constituted a spiritual hierarchy, reflecting progressive gradations of objective reason.
Having attained 17 [category is not named], to go on, the individual had to voluntarily descend to 1, that of the ordinary idiot. Some say it happens with 10.
18. the highest development of reason with which a human being could resonate.
19. and 20. the sons of God
21. the reason of God
Detail
Gurdjieff introduced his toast to the Idiots in 1922, and from 1940 gave it increasing emphasis.
Although not divesting 'idiot' of its pejorative sense, he re-invested it with the meaning of individuality (from a Greek root meaning 'I make my own').
Though idiocy was universal - God himself being the Unique idiot (No.21) - a subsidiary differentiation afforded a human typology at once 'poetic' and profound.
Each pupil, relying simply on intuition, was initially required to choose his own idiot from among the first twelve (1 ordinary; 2 super; 3 arch; 4 hopeless; 5 compassionate; 6 squirming; 7 square; 8 round; 9 zigzag; 10 enlightened; 11 doubting; 12 swaggering) ...
The subsequent order of idiots (nowhere reliably published) is believed to be: 13 born; 14 patented; 15 psychopathic; 16 polyhedral. Although idiots 1-16 might seem to occupy a plateau of being, only differentiated behaviourally, there are hints of a desirable evolution to the proximate type ...
Idiots 17-21 constituted a spiritual hierarchy, reflecting progressive gradations of objective reason. [Category 17 is not named.] Idiot 18 presented the highest development which a human being could reach, but in order to attain it, he had first voluntarily to descend again from 17 to 1, the ordinary idiot. Idiots 19 and 21 were reserved for the sons of God ...
The Toast to the Idiots was discontinued immediately on Gurdjieff's death in 1949, it being felt that, without his decisive presence, it stood in danger of becoming a mere form without content.
Source: Moore, J.B. 1991. Gurdjieff - A biography. Element Books Limited, Shaftesbury, Dorset.
Diary of Madame Egout Pour Sweet
[excerpt]
Source : gurdjiefflegacy.org/50bookexcerpts/diary.htm
A pupil of J.G. Bennett, Rina Hands was given the honorary title of "égout," a French word for sewer or drain, by Mr. Gurdjieff. Present at his dinners in the last year of his life, she has a deep experience with his toasting to 21 different idiots; "The Science of Idiots," he calls it. Sitting in Gurdjieff's dining room she recounts, for example, how when the toast came to all Compassionate Idiots, he suddenly asked her, "You, Blonde there—natural or not I never know—are you Compassionate Idiot?" Later, she learns from Bennett that the whole of Beelzebub was being retyped. Knowing how to make herself useful, Hands offers her services as a typist and so goes to Gurdjieff 's apartment each day, "taking part in whatever was going on at the time."
The folliowing is from Rina Hands
Of Jokes & Idiots
And so we sit with the author at the lunches and dinners, hear Mr. Gurdjieff recounting his English, Scottish and Irish jokes and, of course, toasting to the idiots, the toasts usually not getting beyond nine or ten idiots. (Mr. Gurdjieff says he is Idiot No. 17.) Recounted are Gurdjieff's insights into the various idiots. For example, there are three kinds of Compassionate Idiot. The first sees a man in need of help and immediately helps him, even giving him his own shirt. The second does exactly the same, but only because his fianceé's father is observing. The third kind, says Gurdjieff, "So-so-so, sometimes he gives and sometimes not, depending on many things, perhaps even the weather."
Loving One's Parents
One day Lord Pentland, his wife, Lucy, and young daughter, Mary, came to lunch. Mary sat by her mother's side and just in front of Gurdjieff. She became very bored. Suddenly, Gurdjieff spoke to her: "In life never possible do everything." Having puzzled the child, he points to the mess she has made at the table. "On my table you cannot make this mess. Perhaps at home Mother permits." If she wants to act this way, she is to stay home. But then she won't be able to be here. "So you see," he says, "you can never do everything."
In the evening at the end of dinner, Gurdjieff asked the little girl, "Who do you respect the most?" Her mother has to interpret: "Who do you think is the most important person here?" Without a moment's hesitation, Mary replied, "My Daddy." Gurdjieff beamed: "I am not offended. God is not offended either." He explained that he who loves his parents, loves God. If people love their parents when they are alive, then, when their parents die, "there is a space left in them for Him to fill." He patted her on the shoulder and said, "For my aim, I want twenty such. If I had twenty like her, I get my aim. Not because she special, but because she not spoilt."
‍