SelfDefinition.Org
The Golden Chalice
Joseph Sadony
Published 1948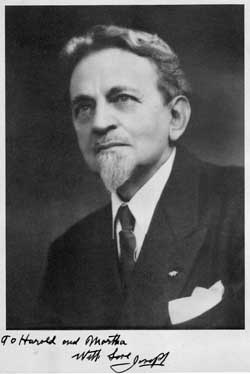 -->
Title Page
The Golden Chalice
My Questions—His Answers
He came like a thief at night in my wishful-thinking vision and stole my heart away.
by JOSEPH SADONY
The Valley Press
Montague, Michigan
THE GOLDEN CHALICE is privately printed as a gift to a specific list of individuals, 300 copies have been made up for this purpose. It is not for sale. It is not available to the public. It is not to be reproduced in whole or in part for commercial purposes.
COPYRIGHT 1948
BY JOSEPH SADONY
All rights reserved, including those of translation into foreign languages.
DEDICATED
TO GOD, THE MASTER AND THE TRUTH
WRITTEN DOWN
ONLY FOR YOU WHO UNDERSTAND SO WELL THAT YOUR OWN SOUL MIGHT HAVE RECEIVED OR GIVEN THE SAME ANSWERS: YOU WHO WHEN IN DOUBT, NEED BUT ASK YOUR QUESTIONS AND DRINK FROM THE GOLDEN CHALICE WHERE THE COMFORTING SPIRIT OF TRUTH MOVES YOU TO OPEN IT TO FIND YOUR ANSWER.
---
Compilation Notes
Joseph Sadony, documented gifted clairvoyant
THE GOLDEN CHALICE is empty and useless to those who cannot think both with reason and with spirit.
They see but the empty gold, not the spirit of truth it contains.
So waste not your few years of time by remaining as empty as you may think this Chalice to be. It would be well not to read too much of this little Book at one time. Rather open it only when and where the spirit moves you to do so.
This copy of THE GOLDEN CHALICE was made for you, with faith in your full understanding of this gift from your friend.
It is for the purpose of exploring that state between what is more Real and what is very temporary that this web site is presented.
Here are most works of Joseph A. Sadony as unchanged and proofed as we can present them.
Richard Rose introduced me to the works of Joseph Sadony. This is offered in the spirit of 'passing it on'.
‍