SelfDefinition.Org
The Golden Chalice
Joseph Sadony
Published 1948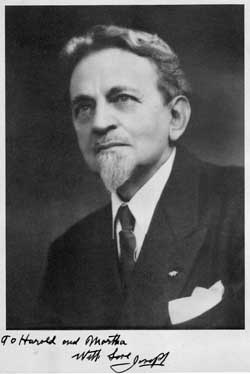 -->
Chapter IX
MASTER, WHEN HUNGRY AND DESTITUTE HOW CAN ONE RECEIVE NECESSITIES?
My son, by giving.
BUT SUPPOSING ONE HAS NOTHING TO GIVE?
Then what was done with what was possessed?
BUT, MASTER, SUPPOSE THERE WAS NOTHING TO GIVE?
Then my son, how couldst thou exist if there were nothing to subsist on and to share? Thou art still alive. Thus to give means to share; to share means to be one in spirit. He who receives must have given to receive, though he be misguided in his giving.
SHOULD ONE GIVE AWAY ALL HIS POSSESSIONS?
My son, all thou dost hold is not thine. There are others who own part of it. Just question how acquired, and if it was all of thine efforts. 'Tis well to give from wages well earned. That returns in the blessings of charity or alms.
SUPPOSING SOMEONE TAKES CREDIT FROM MY CHARITY GIVEN, WHERE IS MY REWARD?
Dost thou not think the deception gives birth to a guilty conscience of the giver? How far does the grateful thanks of the receiver go into the giver's heart?
What good would it have been to thee to hear those words of gratitude, if not but to thy pride? Didst thou give it for that reason? If so, thou hast already been paid. 'Tis often far better to share thy goods before they crush it all by their own weight. It is the feeling that thou hast made a sacrifice that betters thee more than the recipient.
SHOULD WE PREACH AND LECTURE TO THE MULTITUDE?
My son, not until thy chalice be overflowing with truth as proof of the everlasting truth self-sustaining: as a matured fruit tree that misses not its ripe fruit, but ready to produce more at the next season's call of duty.
HOW CAN WE KNOW WHEN TO SPEAK?
When thy burden of wealth becomes too heavy, and when charity calls to unburden thyself. Knoweth thou when thy tears will flow? Still they say not a word but preach volumes.
Be ever prepared to express thyself when thou hearest a gentle knock at thy door. He that useth force shall find the gates locked against him. He who forces speach soon will not be heard; and next, not seen.
SHALL I ADMIT ALL THOSE WHO KNOCK AT OUR DOOR?
All those, my son, who come in my name find thy door open. Those in question for thy pity and charity will ever knock but in doubt.
IS IT WISE TO INVITE STRANGERS?
Is it not best that the key of desire shall open thy door for him prepared in expectancy for what thou hast to give?
Would a poor mother with starving children be tempted to enter a jewelry store with her two sheckles of silver? Or would she seek a place to buy a loaf of bread.
MASTER, I FEEL I HAVE NEGLECTED YOUR NEARNESS.
My son, I have found it is not always good fishing even for fishers of men.
I REALIZE THE BLESSING, MASTER, AND AM GRATEFUL THAT YOUR LIGHT EVER SHINES.
And I am grateful to see thee emerge from the shadow of darkness and doubt.
I THANK GOD FOR YOUR DIVINE WORDS OF ENLIGHTENMENT.
And I thank thee for helping me carry my mission from the cross to the crown.
PLEASE, MASTER, KNOCK OFTEN AT THE DOOR OF MY HEART. WE ARE SO DEAF AND BLIND TO HEAR OR SEE.
How canst I knock at thy door when I am always in thy abode?
MASTER, I SHALL REPAY WITH MY LOYALTY AND THE GOLDEN RULE.
Then thou hast not been called in vain. Peace be with thee and thine.
‍