SelfDefinition.Org
The Golden Chalice
Joseph Sadony
Published 1948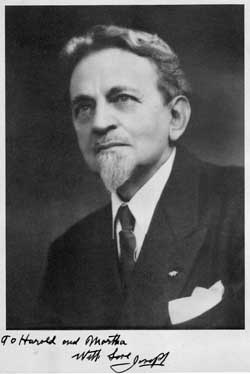 -->
Chapter XIV
I gathered ye all under my wing, but ye drifted apart one from another. Why? Canst thou have pity or charity if thou hast not sacrificed and suffered? It is not bouquets that give tribute, but honorable scars.
He who allows me the shelter of his heart shall find a safe refuge in mine. Lend me thine ears so thou mayest speak for me, and not thy tongue when thou art deaf and too blind to see me. Thou canst find me by listening to what thou seeth, and sensing the whisper of thy soul.
MASTER, I DID NOT KNOW YOU WERE SO NEAR. I felt so alone. (ed note) this is the way it is in the original book so it is unchanged here.
My son, I am ever near. 'Tis but the dust, the dry clay of the dead, that shuts out the light to know, to feel, to hear and to see.
BUT IS THERE A METHOD NOT TO BE SO BLIND?
When dost thou seek thy way: at night or in the light of day? And if in the dark of night, is not the mortal earth between thee and the sunlight? Likewise with daily environments that come between thee and me. But knoweth thou that the sun and my love shineth forever.
DEAR MASTER, LET US NOT DRIFT INTO THE SHADOW OF MORTAL THINGS.
My son, fear not. Thy journey leads but past the cross where once I was, and where I found thee as thou me.
I WILL LOOK MORE DILIGENTLY FOR YOUR NEARNESS.
Thou too must sleep away the nights and shadows. So strengthen thy faith when weary, knowing I am always with thee and thine.
BUT I FEEL SO SMALL AND SO GREATLY HONORED AND UNWORTHY.
That, my son, is evidence of worthiness when thy mortal self be humbled to admit the truth undeniable.
CAN ONE FEEL SAFE NOT TO FALL?
That is why evil and vice are ever thy companions in thy bloodstream of inheritance. Where there be danger there is precaution and preservation. Where robbers or thieves exist, thou wilt find padlocks and safes.
SHOULD THERE BE MORE EVANGELISTS?
Thou canst not heal a long ailment overnight; neither protect the flock of sheep by remaining one night and deserting them for seventy days.
WHY ARE PEOPLE SO CRUEL?
Because they sleepeth not in their darkest hour, where like begets like.
SHOULD ONE FORGIVE AN INJUSTICE?
If thou hast been forgiven, yes. If an injury has been done thee, ascertain if the sins of the father were guilty and not he who but carried the stain of his forefathers. For a newly born child is not guilty of its deformity.
WHAT CAN ONE DO WHEN ONE HAS DONE WRONG?
What doeth thou when thou hast climbed the wrong ladder?
AND WHEN ANGRY?
Gaze into the mirror. If thou canst admire thy expression, it is not thee.
WHAT BREAKS UP FRIENDSHIP?
Nothing.
WHAT DESTROYS LOVE?
The absence of it.
THEN WHAT CREATES LOVE?
Itself.
IS IT RIGHT EVER TO HATE?
When thou knowest what real love is, then thou canst hate. But hatred is a human volcano whose breath is the flame of destruction – even unto itself.
SHALL I BE CHARITABLE TO THE SELFISH?
Charity itself is blind, with no distinction. Sin is to the sinner.
HOW CAN WE OVERCOME OUR HEAVY BURDEN?
By helping others carry theirs.
WHAT CAN I DO FOR THEE?
Accept what I have offered thee, to be worthy of the crown by the cross thou bearest.
I AM GRATEFUL, LORD.
And I am pleased.
IS IT RUDE OF ME TO ASK THESE QUESTIONS?
Do I answer them with resentment or pleasure?
MASTER, I AM GRATEFUL FOR THESE ANSWERS.
Thus am I, for that is all I can offer besides my love and confidence in those who see not but believe in my answers.
‍