SelfDefinition.Org
The Golden Chalice
Joseph Sadony
Published 1948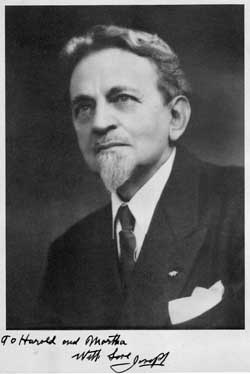 -->
Chapter IV
MASTER, WHY DO WE BECOME SO BLIND TO SPIRITUAL TRUTHS?
My son, it is because children of men insist on reading what has been printed by questionable writers more false and deceptive than the truth. What writings do my prophets read? Are they symbols of the soul or the book called Memory of which I have admonished to let the dead bury the dead? Let each man give birth to the living truth within.
SHOULD WE THEN NOT READ BOOKS?
Dost thou order the choice of food at thy dinner table, or eat only what is placed before thee? Is there not some difference?
WHAT SHOULD ONE DO?
First learn what thy choice is before it is forced upon thee.
IS THAT CHOICE WITHIN US AT BIRTH?
Was it not within the bird nesting near thee what material to use to build its nest without reason: only memory's instinct, the reflection of inheritance within?
WHAT DIFFERENCE IS THERE WITH MAN?
Instinct is his foundation; reason, the mark of a man; intuition, of a son (soul) of God whose beginning is within himself, not from those without who can at best try to awaken what lies within him.
BUT WHY DO WE SEEM TO DRIFT AWAY FROM THE HIGHER CONCEPT?
My son, what would happen to thee in deep water far from shore if thou wouldst fail to use thy arms and legs to swim – what if not to sink into the dark depths of the sea of doubt unto forgetfulness of life.
THEN ONE MUST EVER BE ON GUARD TO ABSORB DIVINE SPIRIT.
Art thou as careless to breathe the air, when to fail is to die? Why on guard and what forces thee not to neglect to fill thy lungs the required times? Surely thou hast never forgotten that, since thou art still breathing regularly.
IS IT LIKE THE FOOD WE ARE REQUIRED TO EAT?
Yes: animals and grasses for the body; reason and logic to fill the memory of the mind; but inspired intuition, the language of the soul: the living manna of eternity, God's Daily Bread.
OH MASTER, I FEARED YOU HAD DESERTED ME.
Thou but failed to swim onward by holding up too much weight of those who would not breast the waves for their own good.
Did not man evolve from the depths of slime and water, so when land appeared that gave thee the Garden of Eden – only to sink a little under the surface of disobedience (to swim)?
WAS THIS STORY ALL TRUE?
Was it so written? Or was it an effort to symbolize the true history of the ages where a day was as a thousand years.
Listen with thy faith where intuition will give thee the answer that may not be written; and if so, only to fade from thy mind like a dream. It cannot be fed to the animal in man. The spirit of things can be sensed only by the spirit of understanding to which the unworthy are blind.
I AM SO HAPPY FOR THIS REASSURANCE.
Thus am I, for thy strength in thy weakness.
I THANK GOD AND YOU, MASTER, FOR ALL THIS.
It was ever and will be thine own to command.
‍