SelfDefinition.Org
The Golden Chalice
Joseph Sadony
Published 1948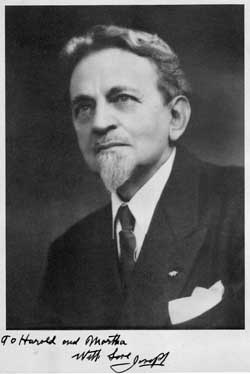 -->
Chapter VIII
MASTER, WHY DO SOME MEN DENY GOD?
They do not, my son. They but think they do. And what are thoughts? Echoes from the soundingboard of their choice.
BUT WHAT CAN WE DO?
Let them but behold the character of their audience and the applause drown their echo in shame.
DO THEY REALLY BELIEVE THEIR CLAIMS?
My son, they but paint darkly their glasses with their sins of omission and deformed reason of arrogant ridicule.
WHAT CAN I DO TO ENLIGHTEN SUCH A MAN?
Let him argue until he becomes hungry and thirsty. He will gently knock at thy door. Feed him just a little, and give him to drink with thy back turned. Then he, like some of my disciples, will follow thee as they didst me.
Never say: Thou shalt not do this. Ask: Why do ye this? Their silence is the answer, the affirmation of their guilt.
There are no arguments, disputes or denials in one's heart or mind when in the solitude of one's conscience. For their one is face to face with God.
MASTER, SHOULD PEOPLE GO TO CHURCH?
Should children go to school?
SHOULD I GO?
If thou wouldst go is it to find me? If so, and I be with thee, must I follow thee if thou hast already found me?
BUT I AM SO ANXIOUS TO LEARN OF YOU.
Canst thou point out a worthy teacher to tell thee what they have read, and prove the truth, when thou hast the same privilege of assuming?
BUT THESE MEN SAY THEY OBEYED THEIR CALLING, THY VOICE IN THEIR HEARTS.
Hast not thou obeyed my whisper to thy soul, and as proof prophesied in my name? Have they all done these things?
WHAT CAN WE BELIEVE IN OUR WORLDLY WAYS?
What do little children believe when they play with toys, dolls and horses, shadows of coming events.
WHAT IS THE TRUEST RELIGION ON EARTH?
The highest divine principle and concept of a loving God and Father.
SHOULD WE STUDY THE BIBLE?
To what dost thou listen when thou hearest a love song from a loved one: the melody or words; the printed words of the Bible, or their true meaning?
IS THE BIBLE A BOOK OF ALL TRUTH?
My son, what is the written opinion of wishful thinking men ill inspired by environments? Thou might ask me what is dirt? Then ask the blind worm that also claims a bible for worms. No absolute truth can ever be printed without a loss or deformity; for when written or printed it is dead, without life, with meaning only by the reflection of him who reads it.
MASTER, WHICH NATION OR RACE OF MEN HAVE THE TRUE RELIGION?
My son, ask each fruit of the world which fruit has the true seeds on earth? An apple may reply: I have, to be true to my creator as an apple.
THEN SHOULD WE COMBINE THEM ALL IN ONE FAITH OR BELIEF?
If thou didst that, thou wouldst create hypocrites, liars, deceivers and sinners. For could a man believe something that has no meaning to him; or a tenor sing bass; a cruel murderer think the thoughts of a virgin? One should believe in that which he can worship in respect to better his morals and virtues.
COULD WE CONVINCE THEM OF OUR WAY OF THINKING?
How couldst thou – if an alter and method of thinking be inborn?
ARE THEY INBORN?
Ask that question of an apple by trying to convince it that it should be a pear. Would its flavor change at its attempt?
THEN IT IS BEST FOR EACH TO HAVE ITS OWN CHURCH AND RELIGION.
Just as well as that each finger of thy hand should function as due its individuality.
WILL THE PRAYER OF A PAGAN BE HEARD?
His soul must have been touched by God to have prayed at all, such as it was.
BUT ARE THEY CONVINCED THAT THEY ARE RIGHT?
Art thou, my son?
I AM, MASTER.
Thus shall they be when they reach the destination thou hast.
BUT ARE THEY NOT PRIMITIVE IN THEIR METHOD?
What is man when he has only mastered the alphabet; and what good are words to thee if in a foreign tongue – whether curses, prayers or blessings?
WHAT THEN SHALL ONE DO?
Be faithful to thy belief and respect theirs if orderly, until they ask thee to lend them thine own.
MASTER, STRENGTHEN MY FAITH!
Can thy faith be any stronger than it is? Weaken thy doubt to know that strength.
ONCE AGAIN I AM THRILLED BY YOUR NEARNESS!
Then, my son come thou nearer to me in thought that gives birth to deeds to the fulfillment of the Law of God, the Prophets and my Shepherd, even as thou senseth.
THANK YOU, MASTER.
Peace, my son.
‍