SelfDefinition.Org
The Golden Chalice
Joseph Sadony
Published 1948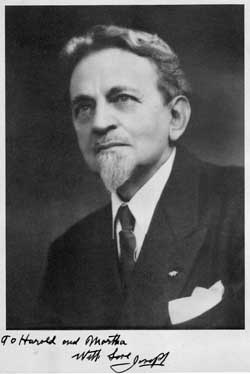 -->
Chapter VII
MASTER, WHEN WILL OUR EDUCATION BE COMPLETE?
When ye have become selfless.
WHAT SHALL ONE DO?
Do thy duty as thy personal and spiritual responsibility. If thou knowest not what this means, consult trusted elders who will not mislead thee.
IF NO ELDERS?
Consult thy conscience of right and wrong. They were grafted to thy consciousness by thy birth; by intuition, and reason, soul and spirit.
UPON WHOM CAN WE DEPEND?
Upon whom didst thou, the day before thou wast born?
IS IT THEN DESTINY?
Can it not be the designs drawn by thy parents, sins and virtues as penance and reward: as thou dost mete it out for that penalty evolved as one of the limbs of thy parents, identified as they were? Do not all of the strongest links of the chain depend upon the weakest not breaking? Is this not inheritance of what was?
HOW MUCH CAN MAN BEAR?
Unto unconsciousness, to be revived to repeat. Thus thy brain compensates thy mistakes for another chance to do right.
WHY SO WEARY AND DEPRESSED?
So thy mayest know the better the weight of thy cross, thy strength and thy reward.
MASTER, HOW KIND OF YOU TO HOLD MY HAND TO STEADY ME!
My son, didst thou not reach up to grasp mine? Do the multitude consider this possibility, even after the Golden Rule was given? Do I not do unto others when they do unto me as they wish to receive?
PEOPLE SEEM SO BLIND TO MY EFFORTS.
Do they see me; and do I not see thee and thy efforts held against them at the court of their grave, that might have been their resurrection?
MASTER, I WILL LEARN MORE AND BETTER AS MY PREVISION BECOMES MORE CLEAR.
That is as it should be, was, is and will be in the confidence reposed, and in the words: Shepherd, know thyself and thy sheep.
ONCE AGAIN I AM GRATEFUL TO YOU, MASTER.
Thou hast said it to substantiate my confidence though unseen but sensed. I bless thy efforts. The rest leave to me. Peace to thy house. I bless thee and my followers who knew me in spite of their doubts. And thus once more the curtain of mortality.
AMEN.
‍