SelfDefinition.Org
Richard Rose
Newspaper Articles
device width goes here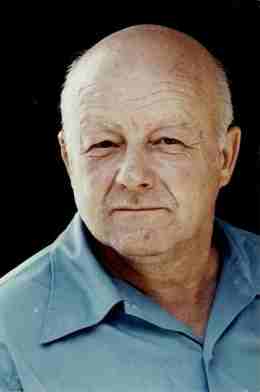 Richard Rose's West Virginia Ashram
"The Shootout"
Local Hillbillies Provoked
Publication of a muckraking article in the Wheeling Intelligencer, "McCreary Ridge Hippies Live Quietly in Hills Meditating", on Saturday, July 13, 1968, apparently provoked some local hillbillies the following Tuesday late at night to pass by Rose's property to do some hell-raising, rock-throwing and possibly worse. True to his beliefs and his word to protect his tenants, Rose defended himself, his property, and the tenants with a 30-30 hunting rifle.
Charges against Rose were dropped before trial: richard-rose-charges-dropped.htm
Note: In After the Absolute, author David Gold quotes Rose as saying there were two cars, not one, that the boys were shooting guns, and they fired a bullet into the trailer near where Rose's son was sleeping: www.selfinquiry.org/ata8.htm
The articles below appeared in local and State papers after the incident.
1. 'Hippie Host' Held in Shooting of Boy
Bullet Lodged In Boy's Side, Reports Claim
Police Spokesman Reveals Incident
Occurred Near Farm
Wheeling Intelligencer - July 18, 1968.
By Warren Bays of The Intelligencer Staff
Richard Rose, a self-proclaimed Rosicrucian who stirred up residents of Limestone by renting camping sites to alleged hippies, was arrested by Marshall County authorities Wednesday and charged with the malicious wounding of a 17-year-old Wheeling boy.
The shooting incident reportedly took place Tuesday at 11:30 p.m. near Rose's farm on McCreary's Ridge [McCreary Ridge], a rural area near Limestone. Injured and confined to Reynolds Memorial Hospital was David Rogerson of Route 3, Box 195, Wheeling. Hospital officials said a bullet had lodged in his side. His condition was listed as fair Wednesday night.
A state police spokesman said Rogerson and two friends, David Conner and Jerry Kupfer had driven past the Rose farm when shots were fired. Cpl. R. E. Cool said the three boys drove back to investigate the shots [does that make sense?], when additional shooting occurred. Cpl. Cool said several bullets struck the car first and then one hit Rogerson.
After the boy's father conferred with Marshall County Prosecuting Attorney Everett Cox, a warrant charging Rose with malicious wounding was sworn out before Squire Harley Moore in Moundsville.
Cpl. Cool and Trooper J. A. McCormick served the warrant on Rose who posted bond of $2,000 pending a preliminary hearing. He was released from custody early Wednesday night.
Excitement over Rose renting camping sites to hippies rose last week. At that time Rose refused to allow reporters to interview the persons he has visiting on his farm.
The camping sites are located along a deserted ridge near the cemetery where pioneer Louis Wetzel and his family are buried.
Marshall County officials who made previous checks of the Rose farm in regard to the hippies refused to elaborate on the shooting incident.
Last Friday Rose warned reporters that he did not appreciate intruders on his property and ordered persons to leave. It was not immediately determined if the three boys were trespassing on Rose's property, officials said.
One report said that Rose admitted the shooting but this was not confirmed.



2. Youth Shot Near Hippies Camp In W.Va.
Cumberland News - Maryland
July 18, 1968
Moundsville, W.Va. (UPI)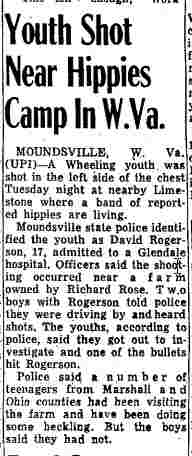 A Wheeling youth was shot in the left side of the chest Tuesday night at nearby Limestone where a band of reported hippies are living.
Moundsville state police identified the youth as David Rogerson, 17, admitted to a Glendale hospital. Officers said the shooting occurred near a farm owned by Richard Rose. Two boys with Rogerson told police they were driving by and heard shots. The youths, according to police, said they got out to investigate and one of the bullets hit Rogerson. [makes no sense]
Police said a number of teenagers from Marshall and Ohio Counties had been visiting the farm and have been doing some heckling. But the boys said they had not.
3. Hold Rose In Shooting "Hippie Farm" Snooping
Moundsville Echo
Thursday July 18, 1968
Richard Rose is under $2,000 bond to appear before Squire Harley Moore on July 24 on a charge of malicious assault following a shooting affair at his farm on the north end of McCreary Ridge Tuesday evening.
David Rogerson, 17, of Sherrard, is in Reynolds Memorial Hospital with a bullet still in his lung, reported doing well, but it may be safer to leave the bullet in there, doctors say.
Rose has been in the news lately as large headlines have announced his farm as "hippie haven", and apparently a number of people have gone by to take a look, and have been rebuffed. The three boys in this incident said they were not out of their car; Rose said rocks were thrown at him. Rose called the prosecutor's office Wednesday morning to report that he had taken shots at someone in a light colored car who had annoyed him with rocks.
Rose has two farms on the north end of McCreary Ridge; the Rose home place where this incident occurred, is on the Grenpoint road, which is the Wheeling Creek road from the Burch Run Lake past McCreary cemetery to Viola; and the former McCombs farm perhaps half a mile southwest of there and west of the McCreary ridge road from Limestone to McCreary cemetery T-junction. The area has been considered from time to time for a county park.
Three boys: Rogerson, David Conner and Jerry Kupfe, drove up that way Tuesday evening. Their account is that they went on past the Rose place and heard a shot fired as they went by, on toward Burch Run Lake; they turned around and came back, when they were greeted with a fusillade of fire.
Officers found four bullet holes in the car, all at a level that would have hit a person had they gone inside. One shot went thru the front fender; the next went into a door but was stopped there; the third angled in and out a rear corner; the fourth went into the trunk, on thru the seat back and lodged in Rogerson's lung cavity.
People who let their beards grow have been reported as camping on both Rose farms.
But on the conservative side, Rose was certified as a bearer of petitions for George Wallace's candidacy in the last election - and Rose himself was a candidate for the Republican nomination for justice of the peace. Altho there were state instructions that no one who actually signed a Wallace petition could vote as either a Republican or a Democrat in that election, there was a ruling that Rose was to be certified as a winner in the primary election.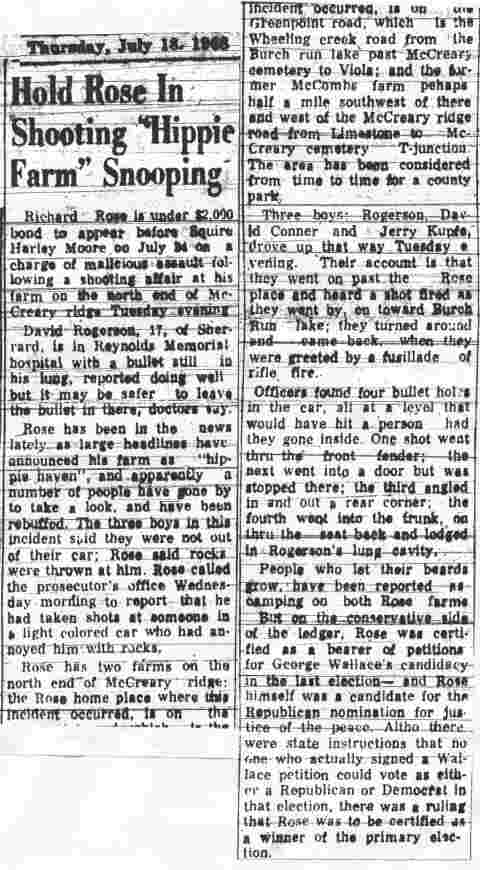 4. 'Hippie Host' Charged
Hearing Scheduled In Youth Shooting
The Wheeling News Register
Thursday, July 18, 1968
A preliminary hearing has been set for next Wednesday at 1:30 p.m. in the court of Marshall County Squire Harley Moore for Richard Rose, 51, who was arrested Wednesday on a charge of malicious wounding in the shooting of David Rogerson, 17, of Sherrard.
Rose, owner of a farm on which three alleged "hippies" or "meditators" are camped, was arrested on complaint of Robert Rogerson, father of the wounded boy, who told state police he and two young companions were shot at as they passed Rose's farm on Greenpoint Road off McCreary's Ridge in the northeastern section of the county.
According to state police, young Rogerson said he and Jerry Kupfer and David Conner, the driver, 23, were passing Rose's farm when they heard shots. He said they turned the car around and as they passed the farm home again shots rang out, and one, from a 30-30 rifle, struck Rogerson in the lower part of his lung. Officers said the bullet is still in the lung.
Rogerson is in Reynolds Memorial Hospital, where he was listed in good condition today.
The automobile in which the three boys [the driver was 23] were riding has four bullet holes in it. County Investigator Kenneth Shepherd said the bullet that struck Rogers entered the car through the rear and lodged in the youth's chest.
State Police Corporal R. E. Cool who was at the scene yesterday to investigate, said Rose told him the three men camped on his farm are not hippies but Rosicrucians, members of a religious sect.
They are from the eastern part of the nation, Rose said.
The youths maintained they had not gotten out of the car nor did they leave the road during the evening when they were near the Rose farm.
A rock reportedly was found by investigating officers inside the car driven by Cooper.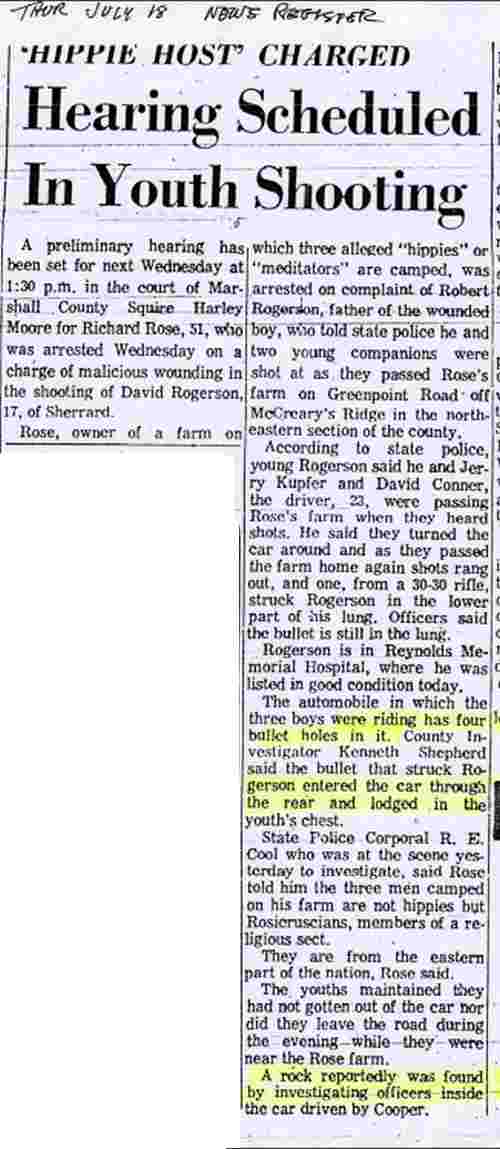 5. Preliminary Hearing Set On Wounding of Youth
The Wheeling Intelligencer
Friday, July 19, 1968
Richard Rose, 51, of near Limestone in Marshall County, will have a preliminary hearing next Wednesday at 1:30 p.m. on a charge of malicious wounding in the shooting of David Rogerson, 17, of Sherrard.
Rose, owner of a farm on which alleged hippies have been camping, was arrested on complaint of Robert Rogerson, father of the wounded boy.
Rogerson was shot as he rode by the Rose farm Tuesday night. He is in Reynolds Memorial Hospital and is listed in good condition.
Rogerson and two friends, David Conner and Jerry Kupfer, are reported to have driven past the farm about 11:30 p.m. The boys told state police that shots were fired at them.
As they returned to investigate [sure] an additional shooting occurred.
It was at this time that a bullet struck the car and then entered Rogerson's side.
Police said the car in which the boys had been riding has four bullet holes in it. The youths maintained that they had not gotten out of the car nor did they leave the road during the evening while they were near the Rose farm.
The hearing will be held in the court of Marshall County Squire Moore.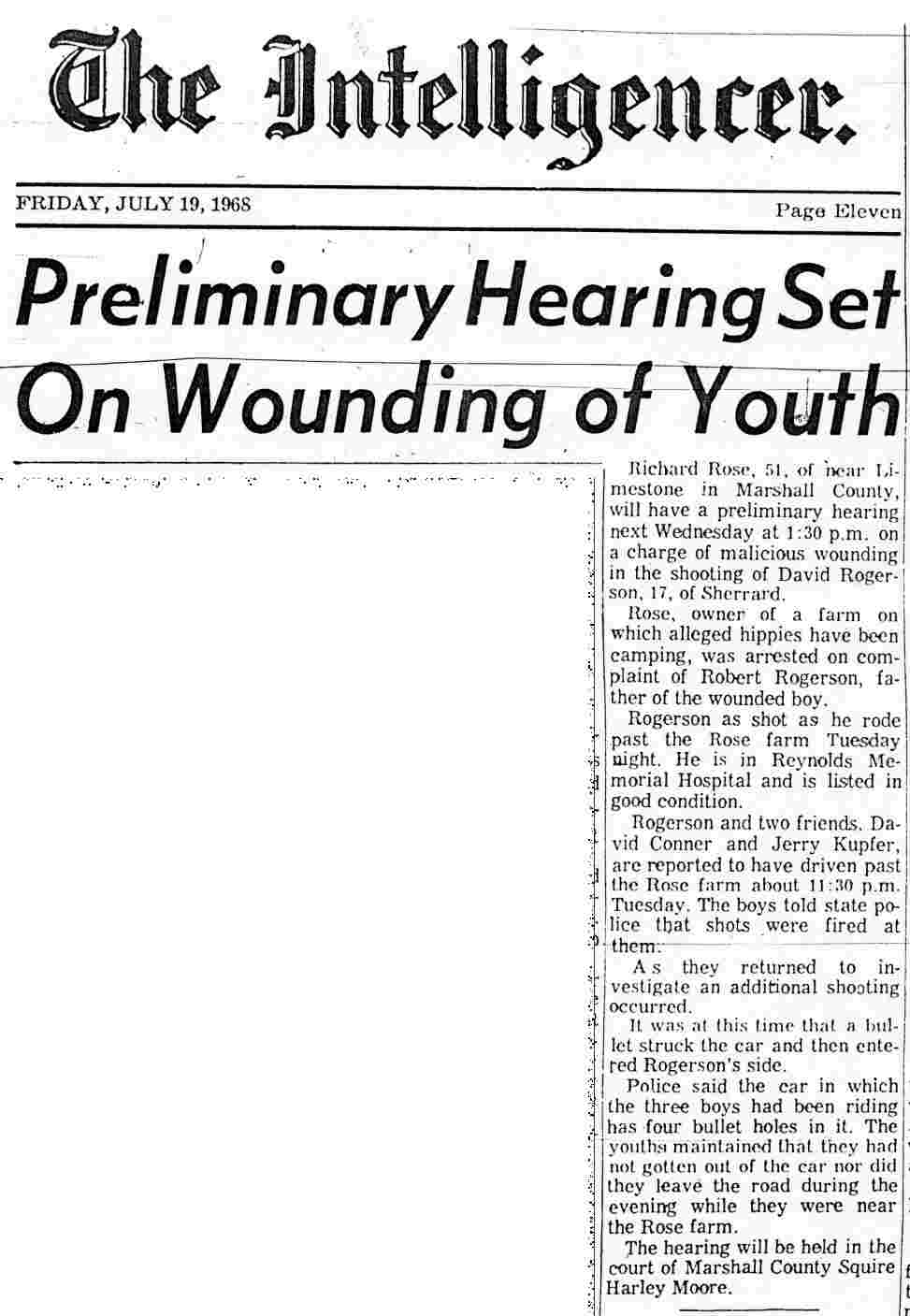 6. Hippie Farm Owner Held In Wounding
Charleston Gazette
July 19, 1968
Moundsville (AP)

The shooting of a Sherrard youth has led to a malicious wounding charge against the owner of a farm described in reports to the sheriff's office here as a hippies' hangout.
The charge was brought against Richard Rose, 51, of Benwood, in a warrant obtained by Robert Rogerson, father of 17-year old David Rogerson.
David Rogerson was reported in good condition Thursdaay in a hospital at nearby Glen Dale. The shooting incident Tuesday night left a rifle bullet loged in his lung.
His father told state police David was shot while he and two companions were driving past Rose's farm in the Limestone section of Marshall County.
The Marshall seriff's office has been receiving reports that a group fitting the popular conception of hippies has been occupying two houses and a tent on Rose's farm.
7. Wallace, Rosicrucians: Hippie Landlord Not So Hip
Charleston Gazette
July 20, 1968
Moundsville - A Certified, card-carrying hippie might be highly skeptical of the credentials of Richard Rose, 51, landlord of what has been called a hippie farm near here.
During the primary election campaign Rose was a bearer of petitions for George C. Wallace, the far-from-hip candidate for president.
Rose, himself, was a candidate for justice of the peace on the Republican ticket.
And that's not all.
The bearded, long-haired people who took up residence in two houses and a tent on the Rose property aren't hippies after all. They're Rosicrucians, Rose said, members of a much-advertised, quasi-religious organization.
Rose is under $2,000 bond on a charge of malicious assault. He is accused of shooting one of the many persons who've been visiting the Rose farm on McCreary Ridge in the hope of getting a look at what they believed to be genuine hippies.
David Rogerson, 17, was shot Wednesday. He said he and two other young men had driven to the Rose farm, but hadn't left their car. Rogerson, of nearby Sherrard, is in a Glen Dale hospital with a high-powered rifle bullet in his lung.
Rose reported the shooting. He called the Marshall County prosecutor's office and said he had shot at someone who had thrown rocks at him.
The Rose farm had been labeled a hippie haven by nearby residents and hippie watching had become a popular pastime. The farm tenants have long hair and whiskers, one watcher told a Wheeling newspaper last week. Another reported seeing a girl with hair down to her hips.
They dance on the roof of a barn at night, according to still another report, and one man said he had seen them talk to trees.
The owner of a nearby restaurant testified that the ones she saw were honest. They paid their bill when they ate at her restaurant, she said. The restaurant proprietor was one of the first to see the Rose farm tenants when they ate at her place and asked directions to the farm. She said they looked like hippies to her. Their car bore New York license plates, she added.
Rose countered last week by saying it was his property and that he would rent to anybody he pleased. At that time he didn't reveal his tenants were Rosicrucians, but said they weren't hippies.
"They're just people who are doing what they like to do - live in the country."
He said he didn't know where they were from. "We may even have some here from Mars," he said.
The Moundsville Daily Echo, after the Wednesday shooting, disclosed Rose's unhippy background. As a Wallace petitioner, he was forbidden to vote in the [Republican] primary election for which he was a candidate. He was certified the winner, however, of a Republican justice of the peace race.
Rose told police who arrested him that his tenants were Rosicrucians from the Eastern section of the country. And there are only three of them, he said - all men.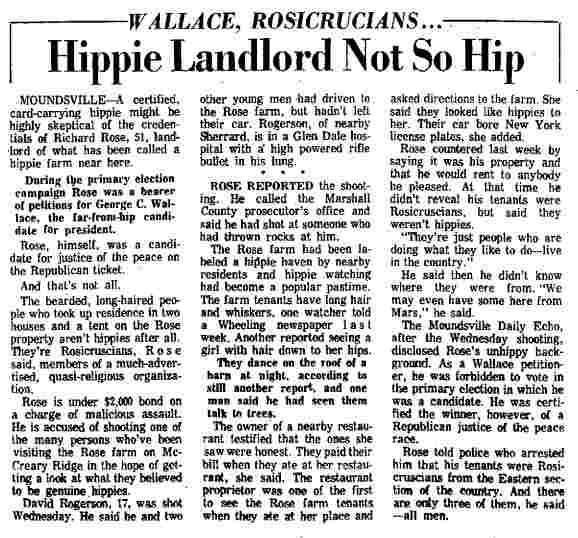 8. Rosicrucians? Maybe,
But They Don't Act It
Aren't 'AMORC'
Charleston Gazette
September 13, 1968
The people in Marshall County who are calling themselves Rosicrucians may very well be Rosicrucians, but they aren't AMORC Rosicrucians, Curtis H. White of Charleston said Thursday.
White said an AMORC Rosicrucian is a member of the Ancient Mystical Order Rosae Crucis. The initials usually follow the popular phrase, "the Rosicrucian Order," in familiar magazine advertisements.
How did he know the Marshall County Rosicrucians aren't AMORC Rosicrucians?
"Well," explained White, who is an AMORC Rosicrucian, "Our members don't act like that."
He produced a pamphlet with pictures of Rosicrucian headquarters buildings and parks in San Jose, Calif. He said the sedate buildings and well trimmed lawns weren't compatible with the behavior of the Marshall County Rosicrucians.
No one really knows much about the behavior of the Marshall County Rosicrucians. They were believed to be hippies when they first took up residence on the farmland of Richard and Phyllis Rose in Webster District and many people from Moundsville and other nearby communities returned from sightseeing tours with wondrous tales of hippie activity.
The hippies talked to trees, one witness declared. Another said they danced at night atop a barn. Richard Rose said what his guests did weren't anybody's business. He didn't know where they were from, he said, adding that some of them might be from Mars.
It turned out, after one sightseer was shot, that the hippies weren't hippies, but Rosicrucians. That's what they told county officials investigating the wounding of a teen-aged boy. Rose was arrested and charged in the shooting.
Two weeks ago the Roses leased their 132-acre farm to the hippies-Rosicrucians for 99 years. A stipulation of the lease forbids subletting except to religious institutions "or to any group that generally holds to the philosophic concept of maintaining a religious retreat or philosophic Ashram."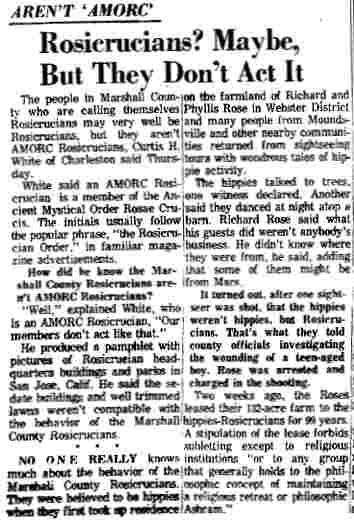 ---
All images (original and optimized): images/
‍