Pyramid Zen Society
Youths Here Explain Drift From Religion
Dogma, Hypocrisy Cited
by Bhodan Hodiak, Post-Gazette Staff writer
SATURDAY, FEBRUARY 15, 1975
Why do some young persons leave their church and even stop considering themselves Christians?
A group of college students and a recent graduate were interviewed at the University of Pittsburgh this week. None considered themselves Christians anymore but all still were searching. They were asked to explain their drift away from traditional religion.
"I thought the church was not keeping up with the times. It wasn't liberated or open enough. They'd make these flimsy attempts at being modern," said Bill King, 23, a graduate of Carnegie Mellon University. He said he was brought up in a very religious Catholic home.
KING THOUGHT there was too much dogma, too many rules and regulations and appeals to blind faith.
"I saw too many people praying without any results; there seemed to be no life to the church," he said.
Michael Baldrige, 23. is a roofer by day and a senior at Pitt, which he attends at night. He was raised as an Episcopalian and said he was forced to go to church until the seventh grade.
"The church seemed more like a social club to me. I thought the people were not concerned with God. There seemed to be a lot of hypocrisy," he said. Baldrige thinks of God now as a force on which everything rests. "My religion is life," he said.
One student preferred not to be identified. He is 24, a Pitt senior, has two sisters who are nuns and received 12-years of Catholic schooling.
HE BEGAN to doubt his faith at 16. Meeting with persons from other religions and denominations him wonder if Catholicism was the only true religion, he said.
He also had questions on dogma and wondered how a just and merciful God could condemn persons to eternal flames for having particular thoughts. A few years ago a book by the Catholic writer Thomas Merton got him interested in Zen Buddhism and he has been studying it ever since.
Milton Goempel, 26, is a student at Allegheny County Community College. He was raised as a Lutheran but didn't attend church much.
"I could never comprehend God as a fatherly personality. When I became older I got interested in Gnosticism. It made me feel important. Christianity made me feel as just another creature," he said.
Goempel used to believe that science was the only valid method of knowledge but now thinks such a view is incomplete.
Vincent Lepidi, 21, is a junior at Pitt. He attended Catholic school for eight years.
"I was hung up on sin. Maybe I was too scrupulous. I tried to resist having bad thoughts but I couldn't," he said. He felt himself to be in a constant state of guilt.
At 17 he read the "Birth of God" by former priest James Kavanaugh. He was struck by a chapter where Kavanaugh said Christianity was an amalgamation of many ancient religions. This was a turning point and eventually Lepidi said, "I found myself not believing."
HE THINKS of God now as an eternal spirit, a force, and has been studying the books of Alan Watts and Krishnamurti.
Leigh Gerstenberger, 21, is a junior at Pitt. He was raised an Episcopalian and said he was grateful for all of his church activities and religious experiences.
Shortly after his father died a few years ago he spent a summer with a fervent Christian group and said he became a religious fanatic. Yet when he returned to college it all evaporated and he spent about two years without any thoughts about religion.
He eventually joined the Pyramid Zen Society which meets weekly in Pitt's Student Union.
The group of students interviewed generally felt organized religion served a good purpose and that people needed something to believe in, but for now they wanted to find their own way.
Did their friends share their attitudes?
"Most youths despise organized religion but as they get older they come around," King said. The others felt despise was too strong a word but that the pattern was true.
"They seem to return as they get older," said one.
[END]
Notes: This article is indexed at Google News.
A.) There are 2 articles on that page that are found by "richard rose" + "pyramid zen" :
Youths Here Explain Drift From Religion

Pitt, CMU Slate Lectures on Zen
B.) DATE ERROR - Google is correct, Newspaper is wrong:
1974 on newspaper: The date that can seen from the microfilm is Feb. 15,1974
1975 on Google: The date turned up by the Google system is Feb. 15, 1975
Two images highlight the date error: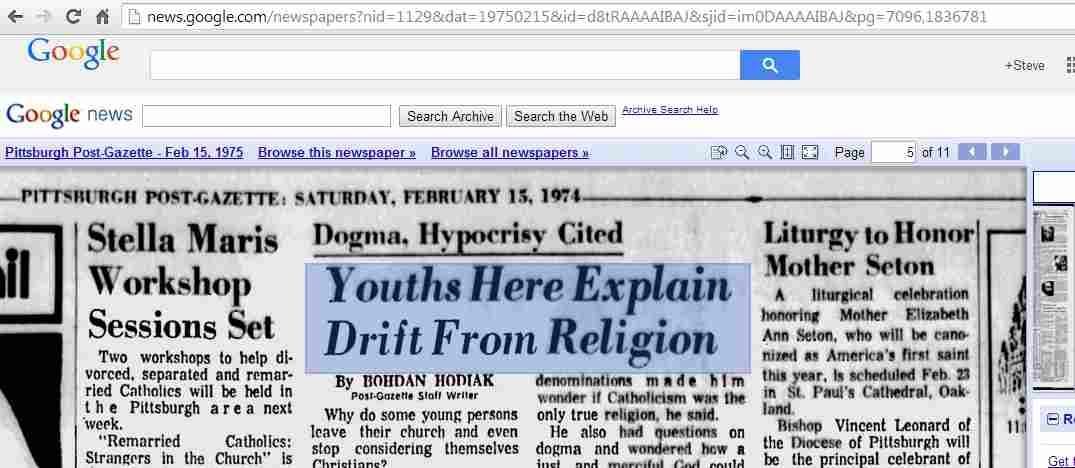 Note that the stock quote (tiny print at bottom, beneath Industrials and Utilities) says 1975, not 1974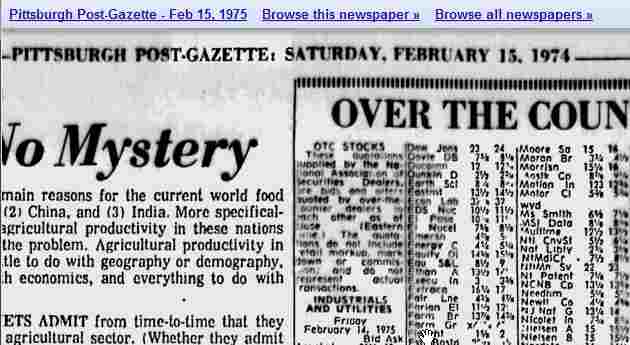 Date error on newspaper page!
Article was published in 1975, not 1974.
(see details at bottom)



February 15, 1974 is not a Saturday: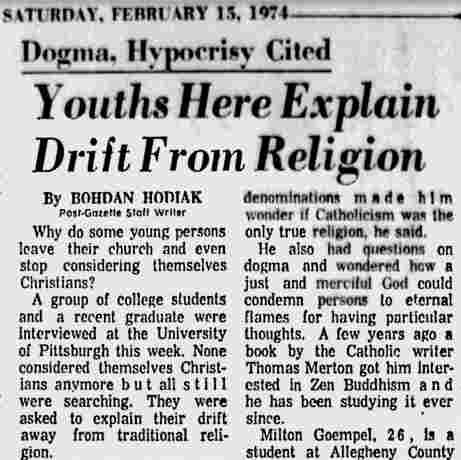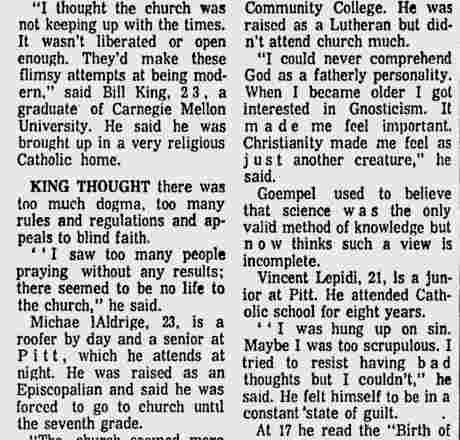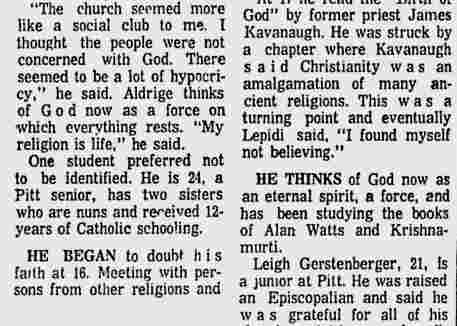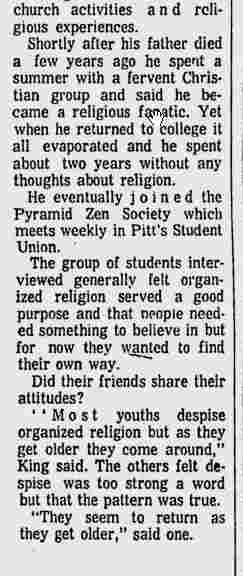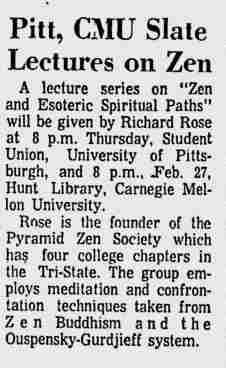 Lecture announcement
Saturday, Feb. 15 1975
on the same page.
1. Pitt: Thursday, Feb. 20, 1975
2. CMU: Thursday, Feb. 27, 1975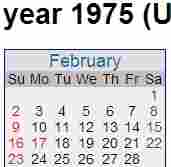 Pitt, CMU Slate Lectures on Zen
A lecture series on "Zen and Esoteric Spiritual Paths" will be given by Richard Rose at 8 p.m. Thursday, Student Union, University of Pittsburgh, and 8 p.m., February 27, Hunt Library, Carnegie Mellon University.
Rose is the founder of the Pyramid Zen Society which has four college chapters in the Tri-State. The group employs meditation and confrontation techniques taken from Zen Buddhism and the Gurdjieff-Ouspensky system.