SelfDefinition.Org
Richard Rose
Newspaper Articles
device width goes here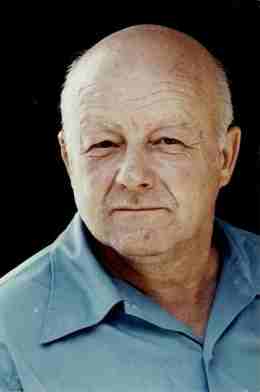 Richard Rose's Farm Ashram in West Virginia - 1968
Very entertaining.
McCreary Ridge Hippies Live Quietly in Hills Meditating
A muckraking article in 1968 from the local newspaper in Wheeling, WV about the presence of spiritual seekers staying on farm property of Richard Rose (a second farm, adjacent to the family farm which became the base for the TAT Foundation). The inhabitants included some Hare Krishna devotees who eventually leased the property and built the New Vrindaban community there.
See the mayhem that this article helped to engender: richard-rose-shooting-incident.htm
Hippie Haven Near-By?
Image caption
In a secluded area of McCrear's Ridge near Limestone in Marshall County, a group of hippies are reported to be spending the summer. Signs in the area only tell of the Lewis Wetzel Track and the cemetary where he and his famous pioneer family are are burried.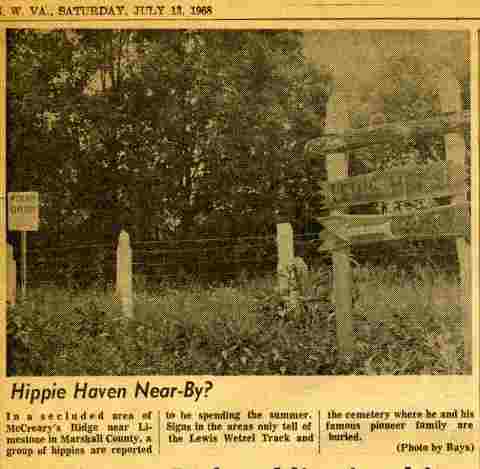 McCreary Ridge Hippies Live Quietly in Hills Meditating
The Wheeling Intelligencer, July 13, 1968
By Warren Bays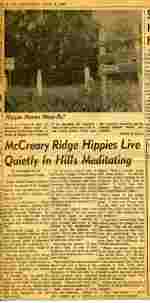 Full article image is
below.
Lewis Wetzel would probably turn in his grave if he thought hippies were spending the summer on a beautiful hillside he once explored.
Along McCreary's Ridge [McCreary Ridge] where the famous pioneer and his family are buried is a reported summer hideaway for persons who want to get away from it all. Moreover, these persons are referred to as hippies.
McCreary's Ridge is what could be termed a suburb of Limestone. Limestone is in Marshall County south of Sherrard and the easy life enjoyed by residents of that rural village is somewhat shaken today.
The late morning drive along winding Route 250 was refreshing even though reports from a car radio told of the continued problems plaguing our nation and the world.
It seemed that the good life could indeed by found somewhere in the West Virginia hills that roll on and on. Birds sang their song to the winds and worries were forgotten ... for the time being.
In a secluded area of McCreary's Ridge Richard Rose was sitting in a small weather-worn trailer. Persons had been intruding into his private world. A world that sees him drinking coffee from a large mason jar with a bent spoon to stir the sugar. The rundown trailer and adjoining property seemed to fit his philosophy.
"Are your visitors from New York still here?" he was asked. He didn't have to answer. "Leave us alone" seemed to echo through the trees. A dog barked in the background as once again the question was asked. "Have you been invaded by hippies? Are rumors floating around here true?"
Rose had the answer. "I really don't think it's any of your business. You are up to no good down here looking for a story. I can tell that."
The rumors he was questioned about were that a band of hippies had been camping on his farmland. A little old lady in a small general store repeated what had been learned about the visitors. "Some have long hair and they all seem different."
Rose didn't seem to think they are different. "Who's to say I should get a haircut or shave? There's nothing wrong with those people," he related. There are people camping on his property. But it's his land he warned. "I don't like trespassers. Those people don't want to be bothered either."
When asked if the people could be interviewed, Rose replied: "I don't care if they want to talk with you but they're about two miles back on the road and I don't like trespassers on my property."
It was later learned that Rose rented land to the people for the summer. "Those are not hippies. The visitors are from New York, they are meditating," he said. mostly [sic] but some cars in the area have had California and Florida license plates.
"These are people who want to be alone and I can't let anyone bother them. If I do they may not come back," Rose said. It was determined that Rose advertized in New York newspapers that anyone wishing to spend a quiet summer vacation could do so on his farm. They won't be bothered.
Hippies or not the people are a mystery to farm folk around Limestone.
"They look funny," a small girl playing with a pup said.
---
Article Image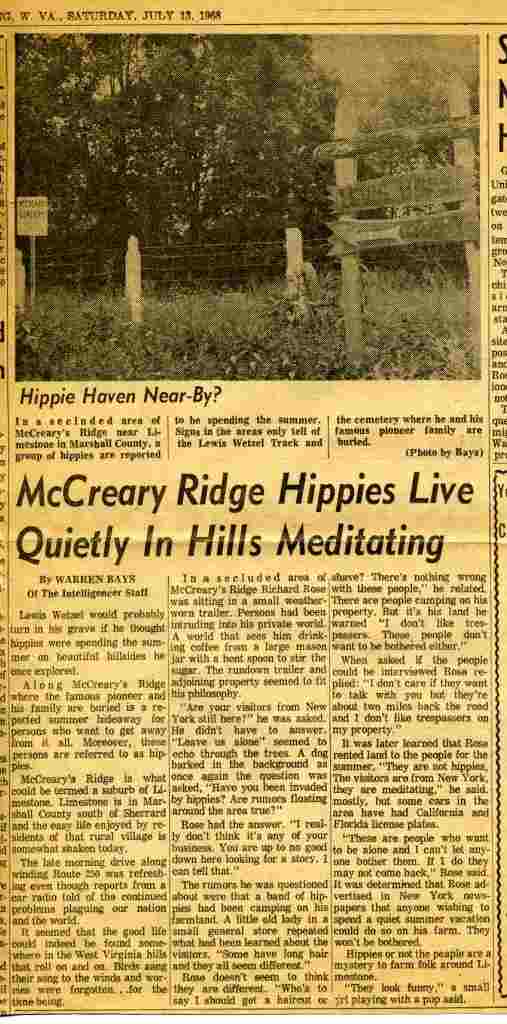 McCreary Ridge Hippies Live Quietly in Hills Meditating
Image before reduction: Here
Richard Rose leases farm to Hare Krishna devotees - 1968
Rose Leases Farm For Religious Group

Article image full size
is below the text.
September 3, 1968
Moundsville Echo
A lease has been recorded at the courthouse wherein Richard S. Rose and his wife Phyllis lease a 132 acre farm in Webster district for 99 years.
The lease is to Howard Wheeler, and specifies that it cannot be sublet - except that it may be sublet without getting permission "to any religious foundation or religious institution or religious corporation or to any group that shall hold generally to the philosophic concept of maintaining a religious retreat or philosophic ashram ..."
Terms are $40 a year to be paid at $500 per year till the grand total of $4 thousand has been reached; and lessee pays the taxes.
This is land where a number of non-conformist people have been spending the summer in a sort of retreat, which attracted the attention of neighbors and that resulted in shots being fired at a passing car this summer. A Protestant minister who went to the farm to investigate, reported he found them fascinating to talk with.

Henry Doktorski Research
According to research by Henry Doktorski on the New Vrindaban community, the lease was signed August 7, 1968.
Source:
www.henrydoktorski.com/nv/newvrindaban2.html
‍