SelfDefinition.Org
Norbu Chen
"Tibetan" Healer
device width goes here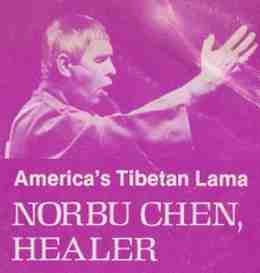 Joann Parks' Yahoo group post to E. Bryant Holman
From a post by JoAnn Parks to a Yahoo message board, "shamandebunk", reproduced here without comment, other than that she appears to be responding to unfair statements and possible harrassment. Also, someone has been making claims about one "Norbu Chan", apparently an impersonator, who was not Norbu Chen. Source: groups.yahoo.com/neo/groups/shamandebunk/conversations/messages/397
JoAnn Parks and Max
Sep 27, 2004
Hi Bryant, [E. Bryant Holman]
I am home for a few days now. Yes, the attorney did say this could have happened.. I am having you and this other person investigated... People show up causing trouble where I am I will have them arrested, and it will go back to you... I have already spoke to my attorney.. Anyone can use Chakapori Lings name. It was a renowned medicial school in Lahsa, Tibet.. This woman claims she was held by this Norbu Chan from 1982-1988.. Norbu was long dead by that time by many years. I have his obituary when he died.. I will carry a copy with me..
As far as me showing you what the attorny sent to me in private, you can forget it.. Let your fingers do the walking and email him yourself.. He will probably tell you he doesn't want to get caught up into your drama... I will also carry a copy of what he emailed me..
Do you get some perverse pleasure in twisting things.. You sound like the rag sheets..
You want to be famous. I will make sure you are very well known.. I will carry your name for you all over North America and Europe, point out the things you have had to say .. I know people who knew Norbu since the sixties.. This is not the same person.. I will also make a copy of this claim by this woman who said she knew Norbu Chan in 1982-1988. I will show people when Norbu Chen died.. You don't really know who this man was..
I also have a copy of Norbu's book that never made it out to publish because he died before they could publish it.. Well, it isn't the book but the advance proof before it goes into a book.. He gave it to me... He certainly wasn't alive in 1982 as the woman claims...
I worked at his foundation after our daughter died, I saw him everyday for many years.. He wasn't in Louisiana or California.. I never saw him hurt anyone.. You were not there, you didn't even know him... However, I do know many, many people who did, INCLUDING MY NEIGHBOR and he was here, not in CALIFORNIA
You never did answer me when I ask you did you ever break any copywright laws and steal someone elses material??? I believe there may be some things about you that is true and needs to be told...
I don't know what your beef is, I don't ever remember hurting you or lieing about you, however my husband and I WILL defend ourselves.....
HAVE A GREAT TIME TWISTING YOUR STUFF... LIKE PEOPLE ATTRACT LIKE PEOPLE, I DON'T SEE WHAT SOME OF THESE PEOPLE SEE IN YOU UNLESS THEMSELVES... IF THEY ARE SMART THEY WILL LEAVE..
JoAnn Parks
From: "E Bryant Holman" <bryanth@...>
Reply-To: shamandebunk@yahoogroups.com
To: <shamandebunk@yahoogroups.com>
Subject: Re: [shamandebunk] Norbu Chen
Date: Fri, 24 Sep 2004 09:17:22 -0500

<<The attorney said this could have happened...>>

Can show is [us] the letter when he told you this?

‍