SelfDefinition.Org
Norbu Chen
"Tibetan" Healer
device width goes here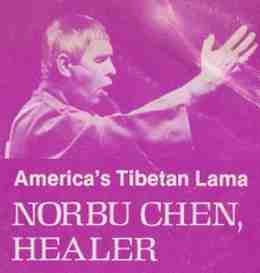 Honorary lama: Ex-convict tied to Kentucky scandal turns to 'healing'
The Courier-Journal (Louisville, KY)
October 28, 1974
By JAMES HERZOG
Courier-Journal Staff Writer
James Herzog obit, 1982: washingtonpost.com
Ex-convict tied to Kentucky scandal turns to 'healing'
October 28, 1974
Published after the Fate Magazine article.
In March of 1961, Charles Vernon Alexander, an ex-convict who had been involved in bizarre Kentucky political shenanigans, made a hurried departure from public view.
What sent Alexander packing was a warrant that apparently would have resulted in his being sent back to the Kentucky State Reformatory as a parole violator to finish out a seven-year sentence for detaining a female.
In 1959, while he was in prison, Alexander provided prison documents that embarassed then-Lt. Gov. Harry Lee Waterfield during his unsuccessful gubernatorial primary race with former Gov. Bert T. Combs. In 1960, Alexander was paroled and worked as a state employe out of the office of a Combs assistant who handled patronage matters.
Today, Alexander, for whom the Kentucky warrant was canceled in 1969, lives in Houston, Tex., under the name Norbu Chen and professes to be an honorary Tibetan lama who can heal the ill through the practice of Asian medical arts.
Chen – he says that's his real name now – has drawn considerable publicity in publications like Fate and the National Tattler. In return for a $750 "donation" [value of $3,300 in 2020 US dollars] to his foundation, Chen said, he will attempt to cure any ailment western medicine cannot help. Chen claimed he gets "remissions" in 73 to 76 per cent of the cases he gets involved in.
Despite repeated assurances from Chen that he "has nothing to hide," the facts of his life – the date of his birth among them – aren't particularly clear.
Depending on which record you see, Alexander-Chen was born in 1924 or 1925 or 1927 or 1929. Chen said there is no certificate attesting to his birth.
His name at birth apparently was Charles Vernon Alexander Jr., though it's hard even to be confident of that.
Prison records seem to be the most complete source of information, and they say that Alexander was born Oct. 13, 1924, in Lexington. They say he graduated from Louisville's Male High and went into the merchant marine for six months.
One prison record says Alexander has six years of university training. Another says he attended the University of Kentucky for one year.
Records at the University of Kentucky and the University of Louisville – two schools at which Alexander claims to have studied physical anthropology – show that he spent one semester at each school. He went to UK in 1946 and UL in 1947.
According to prison records, Alexander holds an honorable discharge from the Air Force, having enlisted in 1948 and having gotten his discharge 21 months later.
Of his early life, Alexander says only, "I was tossed back and forth from Lexington to Louisville." A city directory in the mid-1940s shows Alexander living with his salesman father in the St. Matthews area.
Alexander has a sister who lives in Lexington. She says she doesn't want to talk about her brother.
Prison records say that Alexander was arrested in Lexington on Sept. 10, 1957, on a rape charge. The charge was reduced to detaining a female, and on Jan. 23, 1958, he was found guilty and sentenced to seven years in prison.
A few months later – after an appeal failed – Alexander went to prison.
About that time, Alexander changed his name to Michael Lee Alexander.
Information about what happened to Alexander over the next few years comes from old newspaper stories. [Could not be located.]
In May 1959, a reporter, using "prison records made available to The Courier-Journal," wrote that large quantities of prison food were going to the lieutenant governor's mansion. Two years later, Alexander was reported to have been the source of the records.
The food supposedly was used to feed three servant-prisoners assigned to the Waterfield home, but records showed that the quantities of food involved were extremely large. In a one-week period, for example, Mrs. Waterfield's prison order included ten dozen eggs, six pounds of butter, a 15-pound cut of pork chops, 10 pounds of hamburger, 12 club steaks, 10 pounds of minute steaks, five pounds of sausage, a beef roast, a pork loin, two soup bones, a 15-pound green ham, three hens, eight fryers, a case of canned tomatoes, a case of salad dressing, five pounds of cornmeal, 10 pounds of cream cheese, fresh vegetables, a bushel of Irish potatoes, a case of coffee and two gallons of sweet milk.
In August 1960, after Combs had taken office as governor, Alexander was paroled from prison and given a state job under the classification of publicity specialist in the Highway Department.
Alexander worked closely with a Combs aide responsible for patronage matters and carried a special card that identified him as an "investigator." He claimed it was his job to dig up information to use as the basis for firing certain state officials who were unwanted by the Combs administration. This was denied.
Richard L. Conn, who in 1959 was the publisher of the weekly Jefferson Reporter and a friend of Combs, paid $150 for the information about Waterfield. Alexander said that Conn was representing Combs in the transaction, but Conn contended he was paying for the prison spy work on his own cuff.
In early 1961, Alexander was convicted of drunk driving, fired from his state job and called before the parole board to show cause why he should not be sent back to prison.
On March 7, 1961, Alexander was gone.
A warrant was issued for his arrest, and the then-chairman of the parole board, Walter Ferguson, said, "We don't have any idea in the world where he is, but he shouldn't be too hard to find."
Alexander, who the parole board chairman described as a "real snow artist," was never found. In 1969 – while living in Clearwater, Fla., under the name Richard C. Johnson – Alexander hired a lawyer to get him off the Kentucky hook.
Louisville lawyer Daniel Boone, hired through a Clearwater lawyer, presented the parole board with letters attesting to Alexander's character. He asked that the warrant be canceled and that Alexander be granted a final release. The parole board consented.
The letters provide a small clue as to what happened to Alexander after he left Kentucky and before Norbu Chen emerged.
The letters say that Alexander worked at a night club, giving karate and kung fu exhibitions. They say that he married – he apparently has had at least two other wives – while in Clearwater and was a respectable citizen.
Alexander's Clearwater landlord, John C. Shorey, was one of those to write a letter for Alexander.
Contacted by The Courier-Journal recently, Shorey said Alexander arrived in Clearwater about September 1968 and stayed about nine months. Shorey said Alexander sometimes called himself Ty Johnson ard claimed to be half Chinese.
Shorey said Alexander-Johnson-Chen told him he was shooting a motion picture on the Everglades. "But I never saw a camera," said Shorey. The former landlord said that Alexander also claimed to be an actor.
Interview
Alexander, when asked where he's been and what he's done over the last 13 vears, becomes fuzzy.
Alexander-Chen said he was in Arkansas before moving to Houston two and a half years ago.
"I was very itinerant. I was moving around, I was in Hot Springs for a while. Little Rock for a while," Said Alexander. "I don't really recall."
Pressed for details, Alexander said he's been in 52 different countries and has viewed healing techniques in places like the Philippines, Argentina and Brazil.
As for his U. S. travels, said Alexander, "Before Arkansas, I was a little while in Ohio. Before Ohio, I was a little while in the state of Washington. I was itinerant. I had nothing. I just moved around."
Asked how a man evading arrest for eight years was able to obtain a passport and get out of the country, Alexander said, "There's a way to get a passport, and you don't even have to be a U.S, citizen." The healer hinted but never said that he used passports of other countries.
During his travels, said Alexander, "I did make contact with the Tibetan lama and studied under him intermittently for a period of about three and a half years."
There were several contradictions in what Alexander-Chen had to say.
For example, he claimed during a recent telephone interview to have entered prison expressly to get prison records to help the Combs camp. Thirteen years ago, however, Alexander said he was enlisted to get the records on prison food while already a prisoner.
In the telephone interview, Alexander at first said he had received a full pardon in 1969. Official records show otherwise.
In Houston, Alexander apparently has been successful in convincing a coterie of wealthy persons of his training and abilities. A Texas writer, [?] who said he is working on a detailed study of Alexander's healing business, said Alexander has drawn support from C. V. Wood Jr., a member of the board of governors of the American Stock Exchange, and Doris Duke, reputed to be one of the world's wealthiest women. Both are listed as members of the board of Chen's foundation. The writer said that former astronaut Edgar Mitchell [1] also has been a supporter of Alexander-Chen.
[1. edgar-mitchell-comments.htm ]
The August issue of Fate describes Alexander-Chen as "a small man with piercing eyes" and says, "Norbu Chen has no peer as a healer. ... For the past two years Chen has performed about 20 healings each week."
The story continues, "The strain of the ritual and rites may be taking a heavy toll. He himself savs, 'I may burn out in about three more years at this pace. So much of my own vital energy is used when I work on others.' " [2]
[2. According to JoAnn Parks, Norbu Chen died in 1977.]
[ end ]
Article image
Note: In case the article cannot be easily read in this web page. It can be also seen at a larger resolution by clicking the following link (1.5 megabytes): 1974-1028-Courier-Journal-Honorary-Lama-ex-con-Kentucky-turns-to-healing-Width-1400.jpg
Touch "Back" to return to this page.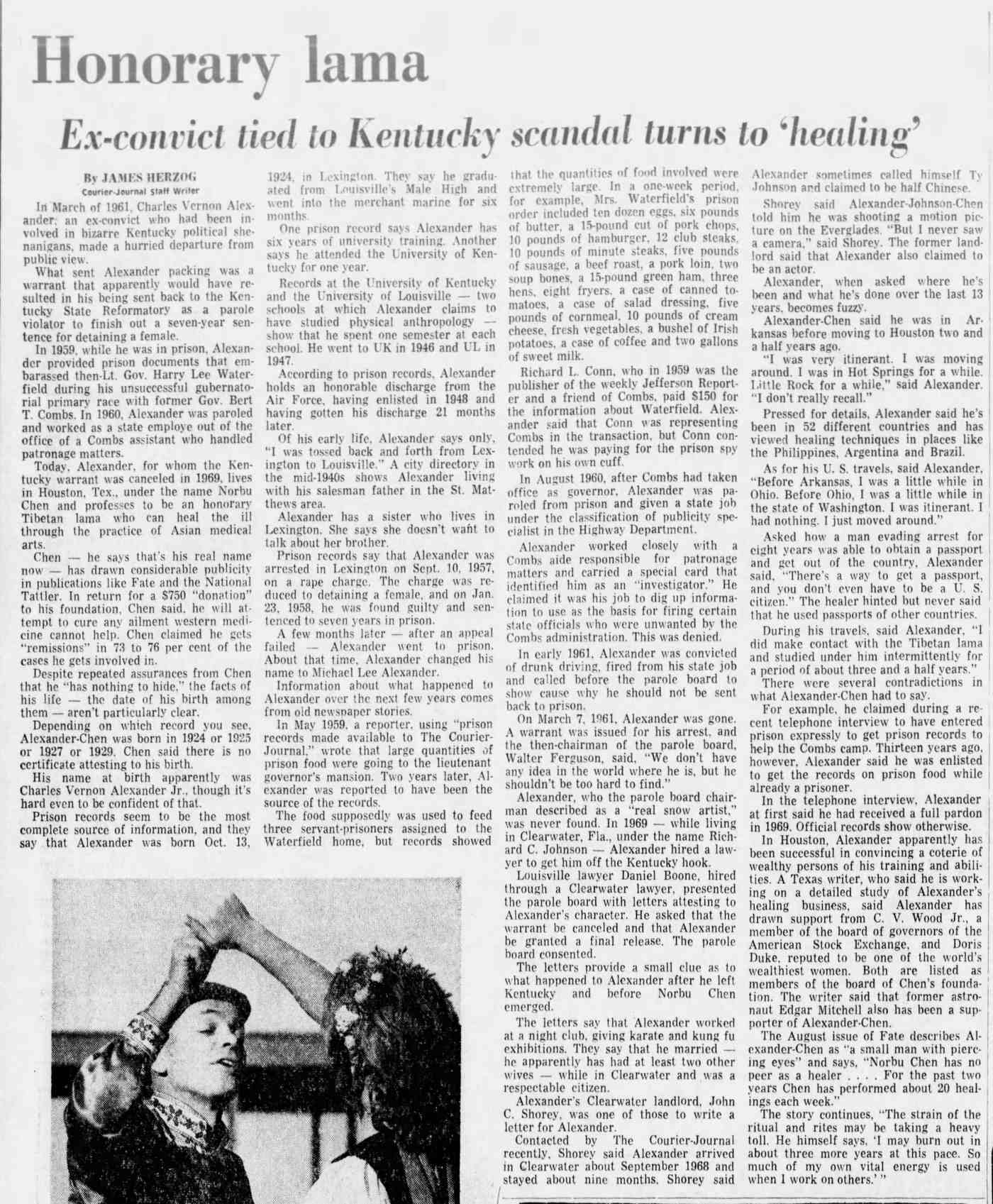 ‍