SelfDefinition.Org
Atma Darshan and Atma Nirvritti
Sri Atmananda Krishna Menon
(1883-1959)
device width goes here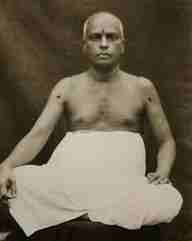 Contents, Glossary
Contents
Glossary
Approximate meaning of Sanskrit terms, arranged in the order in which they first appear in the text
Atma Darshan
Literally, perception of the Real Self. In the context, it means Self-realisation. It may also mean the means of Self-realisation.
Jiva
Individual soul; or apparent "I".
Satva
Thought turning towards Atma (Self).
Nirvikalpa Samadhi
The state in which mind becomes merged in Consciousness for while and there is deep peace.
Rasa
Unbroken peace and harmony.
Swarupa
That which maintains the identity of thing, the background of phenomenal attributes.
‍